Turn your tired bedroom into the sanctuary you deserve with our brilliant bedroom ideas. We have rooms to suit every style and season, from snug and cosy rooms to snuggle down in during winter, to light and airy rooms that are cool and calm for summer.
We spend around one third of our lives in bed, it's therefore all the more crucial that our bedroom should be as beautiful – and practical – as possible. That's why we've considered everything from the right lighting and window dressings, to practical storage and ways to make more space.
Your bedroom was probably the first room you ever helped to decorate. Perhaps your parents let you pick out your favourite paint colour for the walls, or a duvet cover featuring your favourite cartoon character or Disney princess. As grown ups, we can make our bedroom decor as wild and wonderful we like. Decorating a bedroom is a chance to really reflect your personal style and create a look you absolutely love.
Whether you dream of a calm and restful sanctuary or a luxurious hotel-style bedroom, our gallery of bedroom ideas has expert advice on everything you need to know before you make a start, from finding the perfect mattress to choosing a bedroom colour scheme.
Enhance the mood and ambiance with a carefully considered bedroom lighting scheme; make sure each side of the bed has task lighting for a spot of bedtime reading and compliment the style of the room with a statement overhead light or pendant.
A good place to start is our gallery below of bedroom decorating ideas for every style and price point. If you're strapped for cash, check out our budget bedroom ideas. Or if you're all about modern bedrooms, ready to try traditional bedrooms or love rustic style and want to see country bedrooms, we've got those too.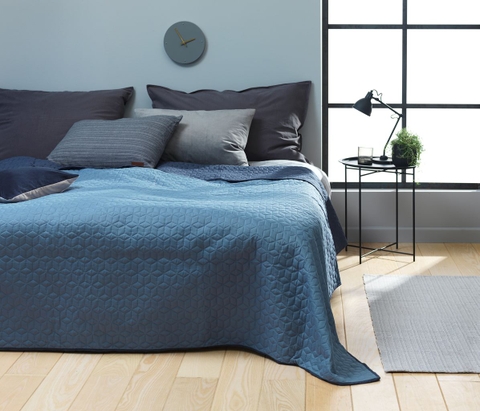 Planning and decorating your bedroom
How to choose the perfect bed
When designing a bedroom, the most obvious place to start is with the bed. After all, without a good bed, it's difficult to get a good night's sleep. Make sure you choose the right size bed for the size of your bedroom. A super king size bed will dominate a small bedroom, making it difficult to move around the space or fit in any other bedroom furniture, while a standard double bed might look a bit lost in a large bedroom. Measure your bedroom, and make sure the bed you choose will allow for at least 70cm of circulation space around the sides and end of the bed.
Decorating a bedroom – what style is best for you?
Once you've found the right size bed, it's time to choose your style. If you're looking to make a contemporary statement, an oversized headboard will make a striking focal point to your bedroom scheme. Love traditional or country style? A beautifully upholstered headboard will work like a charm. If you're a fan of industrial chic or vintage finds, an iron bedframe might be just what you're after.
Why your mattress is key
A good mattress is even more important than the bed it sits on. Take time to choose the right one for you, trying it out in-store if possible, and lying on it in various different positions. Whether you go for an innerspring mattress, memory foam mattress, or anything in between, it pays to invest in a well-made model. A top quality mattress should keep its shape for seven years, after which it's the optimum time to change it. Check out our best mattress reviews.
How to choose your bedroom furniture
A bedroom furniture set keeps things simple – it's a failsafe and often cost-effective way to create a unified bedroom scheme. But if you're feeling a bit more adventurous, start with your bed and mix and match the rest of your furniture around it.The key to any successful eclectic scheme is to choose a colour palette and stick to it. So if you have a dark wood bed frame, match it with wooden furniture in similar tones. Similarly, if you have a white bed, choosing white or pale bedroom furniture will help the scheme to pull together as one.
When it comes to bedroom furniture essentials, you will need a bedside table or nightstand (two if you are sharing your bedroom), a dressing table, a full-length mirror, and clothes storage in the form of a wardrobe, chest of drawers or both. If you have the space, a bedroom chair or end-of-bed bench is an added bonus, giving you somewhere to drape clothes or sit while you're putting on your socks and shoes.
Bedroom storage and dressing rooms
A dressing room or walk-in wardrobe is the ultimate luxury in a bedroom. It's best to go bespoke (funds allowing), as an experienced cabinet designer will know how to make the most of every last inch of storage space, incorporating shoe racks, clothes drawers, built-in shelves, hanging rails and more.
But you can create a dedicated dressing area in a small bedroom, too. Use a decorative dressing screen to separate off one corner of the room, keeping a clothes rail behind it, as well as your dressing table if space allows.
How to find the perfect bedroom colour scheme
Struggling to find the perfect bedroom colour scheme? Choosing the right colour palette is more important in a bedroom than in any other room in the home: Go too bold and you run the risk of restless nights.
Greens and blues are a soothing choice, as they help to relax body and mind, particularly when used in paler tones. That said, dark colours such as warm grey, midnight blue or even black can create an intimate, cosseting feel that's perfect for a bedroom. Our white bedroom ideas, on the other hand, have a light, carefree feel that can help you to unwind at the end of a busy day.
The main thing is to steer clear of vivid, over-stimulating hues such as red, orange and yellow or, if you do use them, go for the palest tones possible and balance them with cooler colours.