The marble side table is a classic furniture item that has made its appearances in fine art deco scenes and beautiful modern homes everywhere. Now, these gorgeous tables get a high-design update with a diversity of silhouettes and finish pairings that allow them fit right into any aesthetic. Shop rarely seen table shapes, traditional styles done over with new proportions and your favorite casual table styles gone upscale with the addition of this cool, smooth material.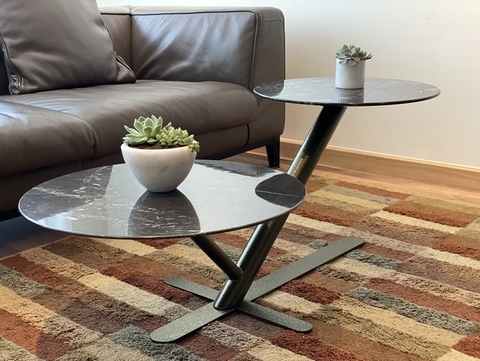 What Makes Marble Special
Marble has been beloved throughout the ages for its beauty, strength and unique looks. It gives off a cool feel because of the nature of its composition and is versatile enough to complement other materials throughout your home.
A marble side table can last forever. With the right care, you could even turn yours into an heirloom piece. Its longevity is a major draw for those who love to invest in significant furniture that lasts.
Marble goes with lots of other elements in your home. The material is used frequently across countertops, mantels or other surfaces, like coffee tables or dining tables, so your side table matches the rest of your design choices.
Each piece of marble is unique, making your marble side table one of a kind every time. The veined pattern that defines marble is created by nature, so the one you get is yours and only yours.
Marble brings so much appeal to the table that it's easy to fall in love with every piece of marble furniture you see. Look for special styles that combine unusual materials or finishes with your marble side table, like brass-finished metal, wood, resin and more. This is one material that elevates everything.