Marble is a classic architecture and furniture material loved for its elegant beauty and timeless appeal. Although we've known marble for its appeal on kitchen tops, this opulent material brings texture and allure to your interior design, making it a luxe centre in any area it becomes a part of. Modern designs introduce marble for other furniture pieces like dining tables, side tables, coffee tables, consoles, and many more. Whether you like it as a part of your kitchen counter and bathroom or as freestanding furniture, marble provides you with a high-end look.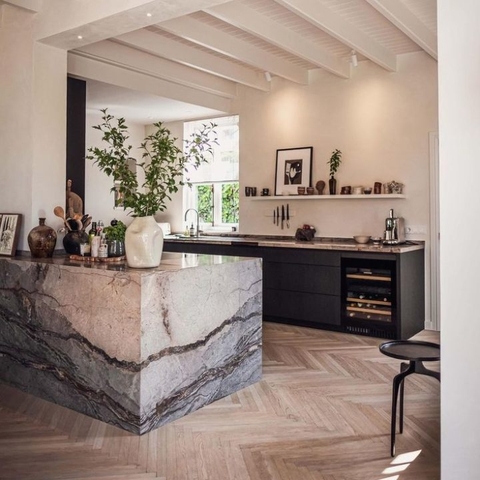 Introduction to Marble
Whether a light-toned and understated piece or a darker one, marble brings an artistic ambiance to any interior design. Like dolomite and limestone, marble is a metamorphic rock, formed by natural changes like temperature and weather. Due to being crystallised, marble displays various unique textures due to mineral infiltration. Marble's very few patterns are the results of minimal minerals present during crystallisation. Other patterns are cross cut and vein cut. A cross cut marble has a more flowery look, while the vein cut marble leans towards a more striped appearance. Some of the most popular types of marble include the luxurious Carrara marble, Calacatta, Emperador, and Travertine.
| | |
| --- | --- |
| Advantages | Disadvantages |
| Marble is a luxurious material with unique beauty and appeal. | Marble requires careful cleaning and sometimes professional maintenance. |
| Marble is a timeless furniture material that never goes out of style. | Marble needs regular sealing to preserve its quality over the years. |
| Marble is versatile and can fit any theme. | Marble has a big tendency to dull quickly, especially when not properly maintained. |
| Marble has a smooth surface that is safe and a perfect surface for some tasks. | Marble is sensitive to heat and some substances. |
| Marble is cheaper than other stone furniture like quartz. | Maintenance and refinishing can get expensive. |
Benefits of Marble Furniture
When it comes to beauty, there is no other furniture material compared to marble. Because of the minerals, marble presents a natural look that cannot be found in different furniture materials, even other marbles themselves. This material can perfectly work as a statement piece in most interior themes. Depending on the colour and patterns, marble furniture can stand out or look more subtle.
This stone is notably durable due to the presence of minerals. This is another reason why it's an efficient architectural material. In fact, marble is present in famous structures like the Taj Mahal.
If you worry about whether this classic furniture material can stand the changes in trends, marble stays a sought-after material even after years.
While marble is a popular material for built-ins like kitchen countertops and bathroom accents, various free-standing furniture, like tables, require durable frames to support the weight of marble. When buying marble furniture, especially tables and coffee tables that you always use, choose frames made with metal and solid wood to support the heavier marble top. Because it's heavy, marble is not very suitable for moving.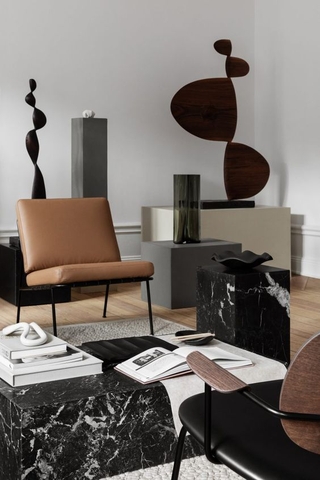 When buying marble furniture, take note of your usage and where you place the piece. Although a durable material, marble is prone to stains and discolorations. It also reacts pretty fast to acids. To keep the quality of marble for a longer period, make sure to wipe liquid spills right away and keep the furniture from unsuitable places. Regular sealing is also needed to keep the marble's fresh look.
Two of the most popular marble colours are black and white grains. These two contrasting types make marble an incredible addition to interior designs. Choosing one that you want to incorporate in your design depends on your style preference. White marble presents a clean, spacious, and serene look, perfect for minimalist spaces. For a small room, white marble can reflect light on surfaces that make the area look bigger. On the other hand, Black marble brings a luxurious and mysterious feel to the space, a perfect pair for bold furniture pieces like a statement sofa or darker neutrals.
There are more colour choices available in the market to fit your desired theme. Cultured or manufactured marble also comes in different colours. You will never run out of excellent options for your home.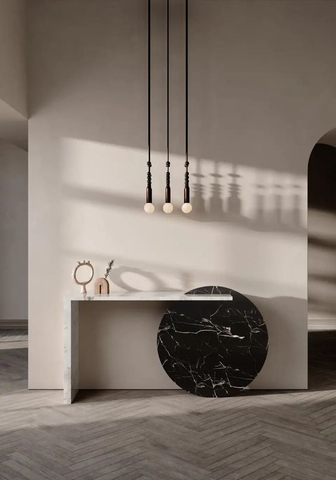 How to Style Your Home with Marble Furniture
If you want to lean on a modern or contemporary design, opt for a marble side table with subtle yet striking appeal. Depending on your desired look, you can choose from a charming white marble top side table or a luxe black marble side table.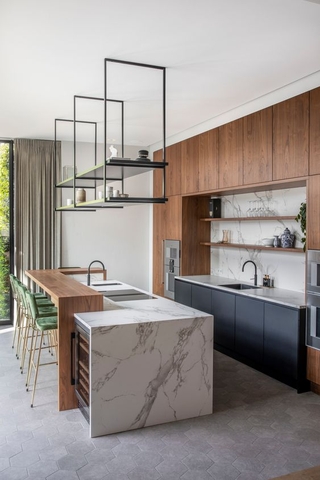 Dining Room and Kitchen
Marble Kitchen Cabinet
Marble is a classic material used for furnishing kitchen countertops. It can also be an accent surface for kitchen cabinets to provide a homey feel to the kitchen.
Marble Dining Table
From traditional to transitional to contemporary spaces, marble dining tables effortlessly provide splendour to your dining area. Units like Aquinoa Marble Dining Table present a geometric solid wood frame and marble top for a contemporary design. Anson Marble Dining Table presents a contrast of white marble top and black powdered legs, making your dining space opulent and luxurious. When paired with the right dining chairs, you can create a remarkable space that your family and guests will love.
How to Preserve the Quality of Marble Furniture
Marble is a good long-term investment for a beautiful and functional home. If you want to maintain your marble furniture's top quality, make sure to keep it away from materials that can deteriorate its quality, like acids and heat. Use coasters and placemats when leaving hot materials on the marble surface and prevent your marble from getting scratched.
Like other exquisite materials, maintaining marble furniture requires TLC. Although it's daunting to include in your home, maintaining marble's top shape is not as complicated as we think it is.
Ready to level up your interior design with marble furniture? You don't have to deal with shop-hopping to get the best pieces for you. When you shop for your marble furniture online, you can take a good look at various styles, material combinations, and specifications in a few clicks. Easy and convenient.